things i like that begin with c: carrots (especially the baby variety), cynthia rowley, carrie bradshaw, charlotte ronson, chuck palahniuk, chuck bass, closer, cucumbers, communitychannel, chloe sevigny, clueless, cursive, canada, christopher robin, coca-cola (diet/zero), camden, canoeing, crafts, cameron crowe.
CUPCAKES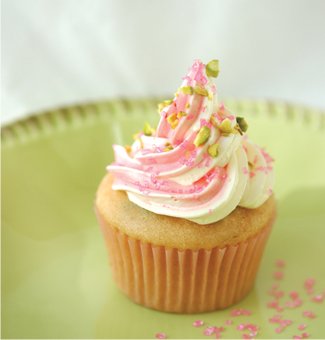 there are very few things that provide as much joy as a cupcake! now, cake.. i've never been a fan of cake so much. as a kid i would save my slices from birthday parties for my parents and was way more into the party bag and all the plastic crap it contained. but i have been known to buy a cupcake or two just because of how beautiful they can be!
the best cupcakes i've ever had include those from magnolias in new york, some from a store called 'cupcakes' here in vancouver and a few my roommate made toward the beginning of the year. i'm pretty dull about them to be honest. i like vanilla and i like 'frosting' (frosting might be totally different to 'icing' which is what us simple peasants grew up with, but its better. to an awful degree, better.) so cute.